Sunday Services update
It's great to be meeting together in person on Sundays, with the opportunity to gather outside after the service in groups of 6 to chat - socially distanced and without face coverings.
Inside, seating is appropriately distanced and socializing is still restricted. Everyone needs to hand sanitize as they come in, wear a face covering unless legally exempt, and singing by the congregation is not currently allowed.
Our Morning Service at 10.30am is repeated at 6.30pm, so that more people have the opportunity to meet in person. Please don't attend if you are unwell. If you are unable to come for any reason, the 10.30am service will be accessible on Zoom.
Below you can register your interest in attending either the Morning or Evening Services. Many of the seats at 10.30am are reserved for the elderly; remaining seats will be allocated on a rota basis if demand exceeds availability each week. But don't hold back, we still want you to book so that we know how many would like to come! Currently, if you book for the 6.30pm service, you are guaranteed a place.

If you are unsure whether you already have a regular booking, or if you wish to book seats for a specific date, please contact Lindsey (administrator@stpeterstw.com). Otherwise please book for regular attendance by clicking the button below. Thank you.

To book to attend a service click on the button below
Although we can't all meet together in person at the moment, below is an order for a service for this Sunday, including Bible passages, sermon and and song lyrics.
With the return of in person services we would like to know how many are using the online service each week. Please let us know by if you would appreciate us continuing to put the service on the website. 
Service for Sunday 18th April
---
Welcome
"The message of the cross is foolishness to those who are perishing, but to us who are being saved it is the power of God." 1 Corinthians 1:18

---
Who, oh Lord, could save themselves,
Their own soul could heal?
Our shame was deeper than the sea
Your grace is deeper still
Who, oh Lord, could save themselves,
Their own soul could heal?
Our shame was deeper than the sea
Your grace is deeper still
You alone can rescue, You alone can save
You alone can lift us from the grave
You came down to find us,
led us out of death
To You alone belongs the highest praise

You, oh Lord, have made a way
The great divide You heal
For when our hearts were far away
Your love went further still
Yes, your love goes further still
You alone can rescue, You alone can save
You alone can lift us from the grave
You came down to find us,
led us out of death
To You alone belongs the highest praise
To You alone belongs the highest praise
To You alone belongs the highest praise
Matt Redman & Jonas MyrinCopyright © 2009 Thankyou Music


---
Reading: Isaiah 29:13-21
---
Eternal God, you do not change. You have revealed yourself to us in your Word.
You call us to worship you in spirit and in truth.
But we confess that we often worship not your true self but who we wish you to be.
We too often ask you to bless what we do rather than seeking to do what you bless.
Forgive us for seeking concessions when we should be seeking guidance.
Forgive us when our worship shapes you into what we want instead of
shaping us into what you want.
Help us to meet you here, that we might bow before your unspeakable majesty
and so live for you now and ever, in Christ. Amen.


---
God is slow to anger and full of compassion.
He forgives all who humbly repent and turn to his Son Jesus Christ,
in whom there is no condemnation. Amen.


---
The Lord's Prayer
Our Father in heaven, hallowed be your name,
your kingdom come, your will be done, on earth as in heaven.
Give us today our daily bread.
Forgive us our sins as we forgive those who sin against us.
Lead us not into temptation but deliver us from evil.
For the kingdom, the power, and the glory are yours now and for ever. Amen.


---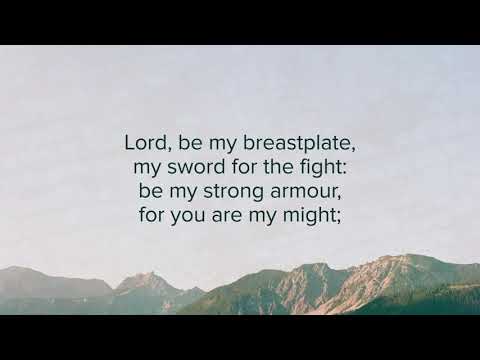 Lord, be my vision, supreme in my heart,
bid every rival give way and depart:
you my best thought in the day or the night,
waking or sleeping, your presence my light.
Lord, be my wisdom and be my true word,
I ever with you and you with me, Lord:
you my great Father and I your true child,
once far away, but by love reconciled.
Lord, be my breastplate, my sword for the fight:
be my strong armour, for you are my might;
you are my shelter and you my high tower -
raise me to heaven, O Power of my power.
I need no riches, nor earth's empty praise:
you my inheritance through all my days;
all of your treasure to me you impart,
high King of Heaven, the first in my heart.
High King of Heaven, when battle is done,
grant heaven's joy to me, bright heaven's sun;
Christ of my own heart, whatever befall,
still be my vision, O ruler of all.

Trans. M.E.Byrne & E.H.Hull Copyright © Jubilate
---
STATEMENT OF FAITH

God remembered his promise to reconcile the world to himself;
he has come among us in Jesus Christ, the eternal Word made flesh.
He is the long-awaited Saviour, fully human and fully divine,
conceived by the Spirit of God and born of the virgin Mary.
Being both God and man, Jesus is the only Mediator between
God and his people.
He alone paid the debt of our sin; there is no other Saviour!
In him the Father chose those whom he would save.
His electing love sustains our hope:
God's grace is free to save sinners who offer nothing but
their need for mercy.

Our World Belongs to God, st. 24, 28


---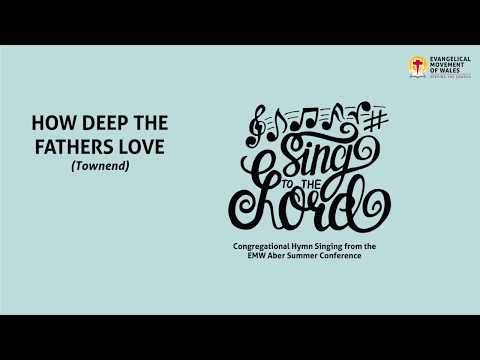 How deep the Father's love for us,
how vast beyond all measure,
that he should give his only Son
to make a wretch his treasure.
How great the pain of searing loss –
the Father turns his face away,
as wounds which mar the Chosen One
bring many sons to glory.
Behold the man upon a cross,
my sin upon his shoulders;
ashamed, I hear my mocking voice
call out among the scoffers.
It was my sin that held him there
until it was accomplished;
his dying breath has brought me life –
I know that it is finished.
I will not boast in anything,
no gifts, no power, no wisdom;
but I will boast in Jesus Christ,
his death and resurrection.
Why should I gain from his reward?
I cannot give an answer;
but this I know with all my heart –
his wounds have paid my ransom.

S TownendCopyright © 1995 Kingsway's Thankyou Music
---
Reading: 1 Corinthians 1:18-2:5
---
Sermon
Will be uploaded after the evening service 
Sermons
---
Prayers
Praise God for his wisdom and power in saving us through Jesus' death on the cross. Ask God for humility to boast in the Lord rather than in anything in or of ourselves.

Pray for her Majesty the Queen and the Royal Family as they mourn the death of Prince Philip, the Duke of Edinburgh.

Almighty God, who gave your only Son for us to be both a sacrifice for sin and an example of godly life, give us grace so that we may always receive with thankfulness the immeasurable benefit of his sacrifice, and try day by day to follow in the steps of his most holy life, through Jesus Christ our Lord. Amen.

---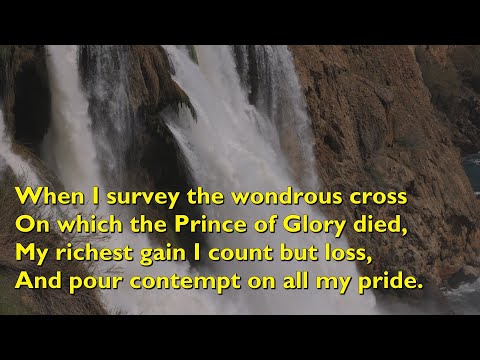 When I survey the wondrous cross
on which the Prince of glory died,
my richest gain I count but loss,
and pour contempt on all my pride.
Forbid it, Lord, that I should boast,
save in the death of Christ my God:
all the vain things that charm me most,
I sacrifice them to his blood.
See from his head, his hands, his feet,
sorrow and love flow mingled down:
did e'er such love and sorrow meet,
or thorns compose so rich a crown?
Were the whole realm of nature mine,
that were an offering far too small;
love so amazing, so divine,
demands my soul, my life, my all!
Isaac Watts


---
Final Prayer
Now to him who is able to do immeasurably more than all we ask or imagine, according to his power that is at work within us, to him be glory in the church and in Christ Jesus throughout all generations, for ever and ever! Amen.